What is BIM?
A New Method: Central management of design, product procurement and construction through the introduction of BIM, which brings innovation to construction.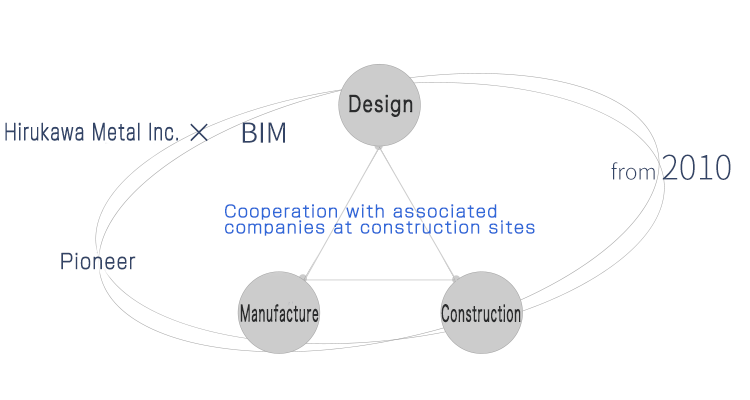 BIM is an acronym for Building Information Modeling, a system which allows central management of all kinds of data related to construction. Specifically, BIM allows the creation of two-dimensional (2D) drawings and three-dimensional (3D) models at the same time during the design process. Relevant information, including building shape, geographic information, and quantities and characteristics of building components, is entered into the BIM system and managed centrally. Work which previously required experience and intuition, or manpower and time, can be performed efficiently and logically using BIM. So BIM is innovative in that everyone can easily manage and use information related to construction.
Utilization of BIM information in all construction phases achieves a quantum leap in safety and productivity. For example, using 3D modeling, you can study the interactions of components in 3D, summarize length, weight and quantity of each component, and make an efficient materials handling plan for the construction materials required.
Hirukawa Metal started its BIM business in 2010, ahead of others in the industry. Introduction of a BIM business has ensured smooth cooperation with related companies, such as design companies, construction companies and manufacturers, at actual construction sites. As a result, working efficiency has improved. Our accumulation of know-how, gained through our experience and knowledge as a leading company working with BIM, has become a key factor in gaining the understanding and trust of our new clients. It is one of Hirukawa Metal's strengths.
Hirukawa Metal continues to make progress. In the future we will be striving toward further development and innovation of our BIM business, including enhancement of the Internet of Things (IoT) in the construction industry.
Features of BIM: No.1
Sharing BIM information enables visual checks beyond physical distance.
Among the characteristics of BIM, the most remarkable is "Visual sharing of information". Through utilization of 3D modeling, checking from any angle is possible on-screen in real time. Operators at remote sites can understand each other easily by sharing BIM data on-screen, and inconsistencies in interpretation are eliminated.
The following are specific examples.
1) Both 2D drawings and 3D modeling can be created, and images of buildings can be shared.
2) Study of joints, interacting sections, etc.: any alterations of details can be checked on the spot.
3) Optimization of loading of building components onto trucks is automatically calculated through simulation.
Click to view enlarged image.
Features of BIM: No.2
A New Idea: Central management of information, such as raw materials and shape, product number, price, inventory and distribution of materials, using BIM.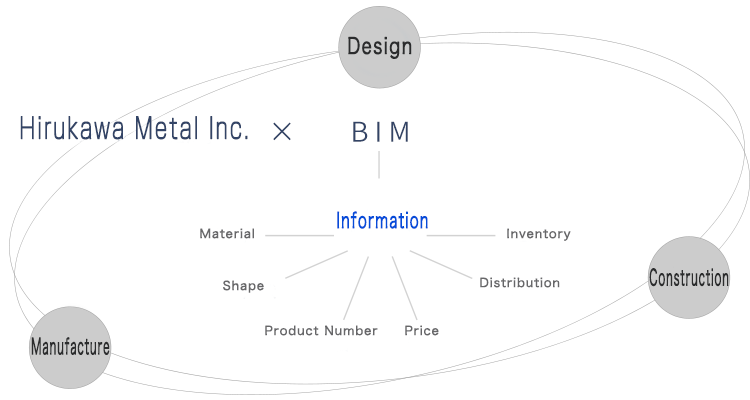 One of BIM's characteristics is "The visualization of materials and component management". Information on the management of materials and components used to be kept in written (paper) form, making it necessary to cross-check the information against actual materials and components.
Data on the management of materials and components is the basic information required to estimate amounts of materials and components at the design stage, and is referred to for inventory purposes and for physical distribution of the actual materials, and components procurement. The information is also used to check the locations where materials and components are used at construction sites. We focused on the importance of information being available for use from the design stage right through to the actual construction site, and came up with a new idea.
And then we made the most of the information in the form of BIM data and made the following innovations.
1) Length, weight and quantity of each material/component can be displayed in a detailed list with 3D modeling.
2) Based on BIM data, the following are possible; Inventory management including receipt and shipment of materials and components required for buildings, and management of physical distribution, including carry-in and carry-out.
3) At construction sites, areas where materials and components will be used can be displayed on a mobile device, etc. by reading bar codes to identify them.
4) Status, including "Waiting for Approval", "In Manufacture", "Shipment Completed", "Delivered to Site" and "Installation Completed", can be checked by all members of the network.
Click to view enlarged image.
Features of BIM: No.3
Materials processing in an automated production system utilizing BIM data.
One of BIM's characteristics is that: "Manufacturing can be based on BIM data". There already was a production system for materials and components based on 3D modeling data, but individual data preparation was required for each component. With BIM, the production system can make use of BIM data just as it is.
Hirukawa Metal opened a local subsidiary, "Taiwan Hirukawa Metal Co., Ltd.", in Taiwan. We also have links with a Taiwanese metal working manufacturer, "Top Build Group Ltd.", and have developed a system ready to fulfil customer needs with excellent technological capability and high production speeds. Particularly highly regarded is our finishing of precise and complicated machining using our automated sheet-metal line and 3D laser machine.
Click to view enlarged image.
Looking for Partners for Cooperation.
We are looking for companies that share our ideas for the advancement of BIM software, creation of programs, creation of BIM data, etc., which could perhaps work in cooperation with our company.
Development of shared BIM software/applications - Ideas for utilizing company-owned BIM data easily and conveniently.
Consulting on BIM utilization for company-owned products - Ideas which help improve and promote sales and operational efficiency for company-owned products.
Consulting on BIM utilization for company-owned products - Ideas which help improve and promote sales and operational efficiency for company-owned products.
We would like to hear from you, if you want to enlarge a business utilizing BIM in any way, including but not limited to the ideas above.
Contact
We are looking forward to meeting as many potential partners as possible.
Please feel free to contact us.
【BIM Promotion Division】
TEL: +81-594-41-4141 (Opening hours: Weekdays 10:00 - 17:00)
FAX: +81-594-41-4140
E-MAIL: